BACK
Cleft Lip and Palate
The Infant Oral Health Expert
Separate areas of the face develop individually during the early weeks of pregnancy. Sometimes, the sections do not fully meet, resulting in a cleft. This separation can occur in the lip, resulting in a cleft lip, or the roof of the mouth, resulting in a cleft palate.
In addition to being both an oral surgeon and physician, Dr. Christopher Galea is the region's only fellowship-trained Pediatric Cleft and Craniofacial Surgeon. Dr. Galea developed such a passion for treating cleft patients that upon completing residency, he moved to Louisiana to complete a 2-year fellowship in Craniofacial and Cleft Surgery at Louisiana State University. Helping infants live healthier lives motivates Dr. Galea to be a guiding light in their journey to wellness, and he feels grateful for every opportunity to positively impact the lives of these children and their families.
If your child has a cleft lip or palate, we encourage you to contact Northern Nevada Oral & Maxillofacial Surgery in Reno and Sparks, NV. Our state-of-the-art offices are welcoming and warm, and you can expect to be treated with exceptional care every step of the way.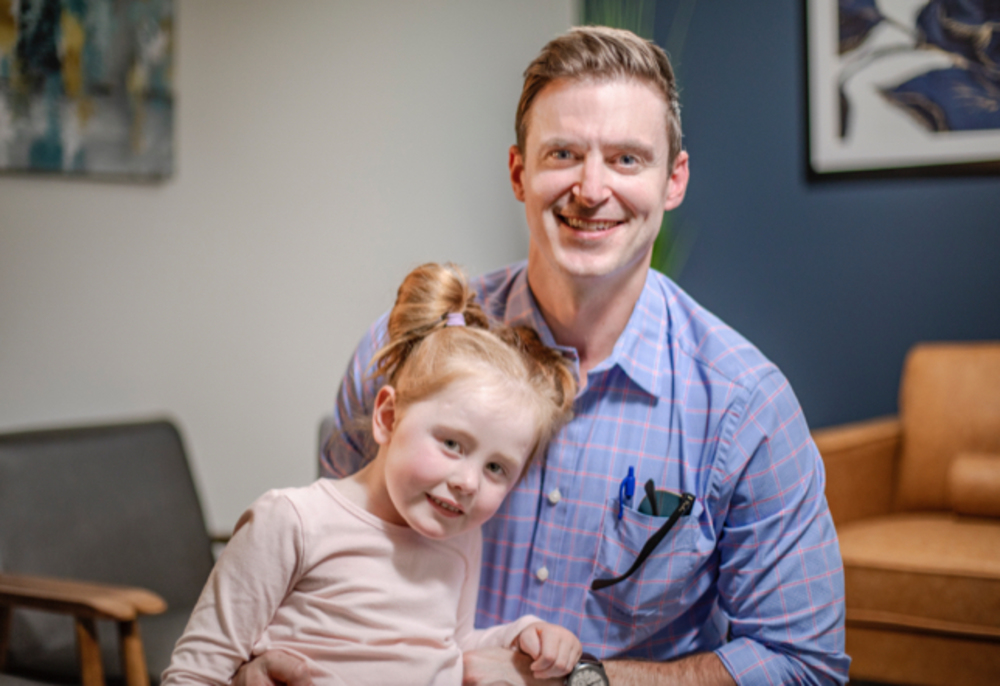 What's the Difference Between Cleft Lip and Cleft Palate?
Cleft Lip
The lip forms during the first trimester of pregnancy. When the facial tissues do not join completely, the child is born with an opening in the upper lip. A cleft lip can be a small notch or a large gap that goes up and through the nostril. Treatment for oral clefts is necessary because a fully formed lip is required for proper eating, speaking, and a normal facial appearance.
Cleft Palate
The roof of the mouth, called the palate, forms between weeks 6 and 9 of pregnancy. Similar to a cleft lip, a gap forms if the tissues of the mouth do not properly come together. The palate prevents air from blowing out of the nose instead of the mouth while speaking. The palate also prevents food and liquids from going into the nose while eating and drinking. Treatment ensures the palate regains proper function and is the correct size so that the child can eat, speak, and breathe normally.
Symptoms and Benefit of Cleft Lip and Palate Treatment
Symptoms of an infant with a cleft lip or cleft palate can include difficulty latching, feeding, or swallowing, a nasal-sounding speaking voice, or frequent ear infections. Sometimes a baby with a cleft palate may have a small chin and experience breathing difficulties. This condition may be called Pierre Robin sequence.
During any treatment, our practice offers anesthesia and sedation options so that your child will remain as comfortable as possible. We utilize state-of-the-art 3D imaging technology to accurately diagnose and monitor progress throughout treatment.
Since the lip and palate develop separately, it is possible for a child to be born with a cleft lip, a cleft palate, or both. If a cleft is left untreated, the child may develop eating, speech, and dental problems, as well as hearing loss.
Cleft Lip and Palate Surgery
Cleft lip surgery is performed before the age of one and aims to close the gap and restore both aesthetics and muscle function to the mouth. A deformity of the nostril may improve as the child heals from cleft lip surgery. If not, a separate procedure may be necessary to reshape and repair the nostril.
Cleft palate surgery is performed around 12 months of age and focuses on the soft palate, or the back of the roof of the mouth. Another procedure is performed when the child is around 10 years old to repair the hard bone at the front of the palate.
Often, a cleft team consists of the child's healthcare providers. Together, the team collaborates on treatment plans and monitors progress. Depending on the severity of the cleft, some children may require speech therapy following surgery. Treatment in older children or adults can be performed as an individual procedure or combined with jaw surgery.
A cleft lip or palate can be a nerve wracking process to endure, but you and your child are in excellent hands with Dr. Galea. His expertise in craniofacial defects and cleft treatment marks him as a leading surgeon in these areas. If you have questions or would like to learn more about the treatment of a cleft lip and palate, please contact Northern Nevada Oral & Maxillofacial Surgery.
Prepare for your first visit, learn about our services, and more.