BACK
Craniofacial Surgery
Expert Treatment of the Skull and Facial Bones
Craniofacial surgery refers to treating abnormalities, deformities, or birth defects of the bones in the skull and face. Treating these types of cases requires delicate care, and Dr. Christopher Galea is a board-certified surgeon and physician who has undergone extensive training to specialize in this treatment. Dr. Galea is the region's only fellowship-trained Pediatric Cleft and Craniofacial Surgeon.
Northern Nevada Oral & Maxillofacial Surgery has offices in Reno and Sparks, Nevada, to increase the quality of life for our patients through life-changing craniofacial care. The needs of a child with oral and facial conditions will vary over time. Dr. Galea and his team are here to guide your family through excellent care every step of the way.
Diagnosing Craniofacial Problems
Signs of a craniofacial abnormality may include difficulty breathing, eating, speaking, or increased pressure in the skull. Rare syndromes affect the shape of the head, which can be more closely analyzed through detailed digital imaging. If you have been referred to Northern Nevada Oral & Maxillofacial Surgery for a craniofacial treatment, Dr. Galea will perform an examination and take 3D scans of the child's head and face to design a custom treatment plan.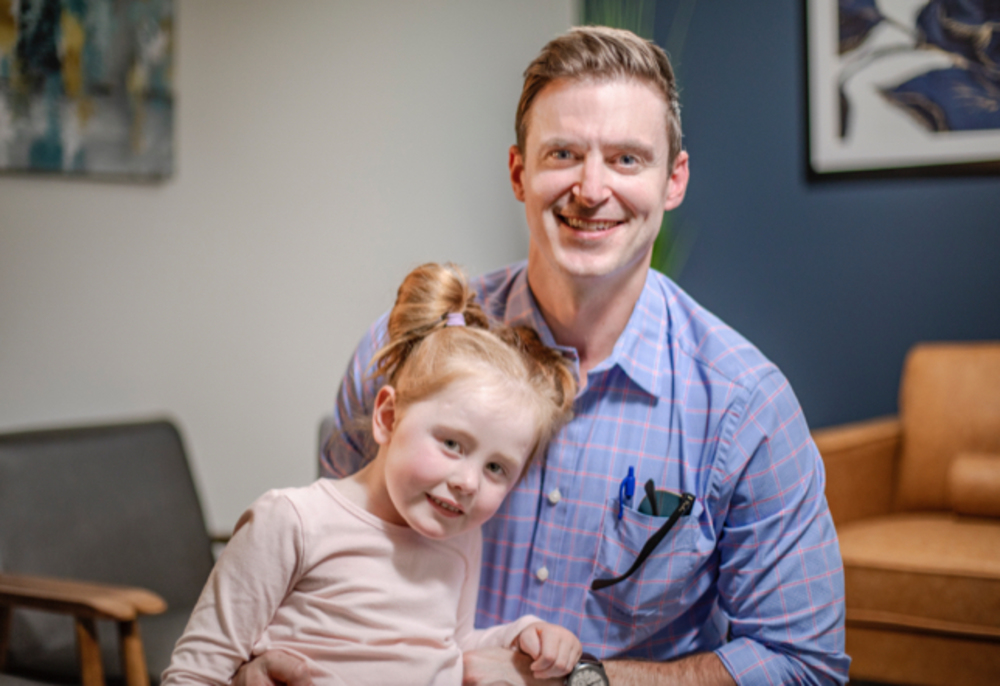 Types of Craniofacial Disorders
There are many types of craniofacial abnormalities that often occur while a fetus is developing during pregnancy, or as a result of disease or trauma. Craniofacial conditions are unique; some are more common, like cleft lip and palate, and others are rare. Some of these conditions include these and more:
Craniosynostosis. If a fetus' skull bones fuse together too soon during development, the growing brain causes irregular head shape or facial features.
Cleft Lip. As a fetus develops during pregnancy, the lips may fail to meet properly, resulting in a gap in the upper lip.
Cleft Palate. Similar to a cleft lip, the roof of the mouth may fail to meet properly during development, resulting in a gap in the palate.
Hemifacial Microsomia. This occurs when a fetus is developing and causes the lower half of one side of the infant's head to be abnormally small.
Pierre Robin Sequence. This set of abnormalities results in an underdeveloped lower jaw and tongue that often fall backward and block the airway.
Stickler Syndrome. This genetic disorder affects the connective tissue that supports joints and organs. It often affects facial features, causing a flattened face due to underdevelopment of the middle facial bones.
Craniofacial Surgery in Reno and Sparks, NV
Your child's treatment will be laid out ahead of time so that you know exactly what to expect. Some conditions may require only one surgical appointment, while others may take many appointments to achieve the most beneficial outcome.
Cleft Lip & Cleft Palate Surgery. The surgeon delicately reconnects the muscles of the lip or palate to ensure proper function and minimal scarring.
Repositioning or Reshaping. The bones of the face and jaw can be moved around, shortened, and repositioned with plates or screws. Similar to orthognathic surgery, this technique utilizes advanced technology and surgical planning to alleviate facial pain and properly align the jaw, nasal bones, eye sockets, cheek bones, and skull.
Bone Grafts. Where there is not enough adequate bone in the jaw or face, we can graft bone into that area so that it grows to be strong and healthy. We can also graft tissue where it is needed.
Treatment will vary depending on your child's precise needs. You will be fully informed of the treatment plan prior to any surgery being performed on your child. Northern Nevada Oral & Maxillofacial Surgery provides a variety of anesthesia options to choose from to keep your child comfortable and relaxed during treatment.
Prepare for your first visit, learn about our services, and more.